Santa Arrives in Style!
Santa Arrives in Style!
19 December 2016 (by hhamilton344)
Santa arrives to visit the children in Carrick!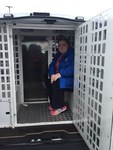 Thanks to the community Police Officers, Santa came to Carrick in style. We are not sure if he was helping police with their enquiries but the sound of over 450 kids singing 'Jingle bells' soon convinced the officers to release him! Great fun all round!
Watch the video of Santa by clicking on the following link!