Big Bedtime Read in Nursery
Big Bedtime Read in Nursery
30 March 2017 (by hhamilton344)
Our Nursery is having their 'Big Bedtime Read' Parent session tomorrow - Friday 31st March.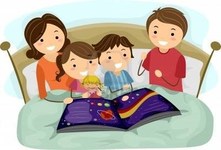 We would ask our Nursery parents to stay for 30 minutes tomorrow morning when they are bringing their child in to school.
Whilst enjoying a cup of tea/ coffee and delicious scones, there will be a very short talk on the benefits of establishing good bedtime routines and reading to their child. Parents will also hear all about our gorgeous new packs that we will be sending home and above all will have the opportunity to talk to other parents with children of the same age.